amoore@ssasports.com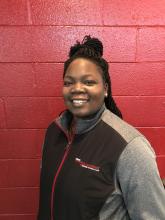 Alexis O.
Moore
MySport Co-Director
Biography
It has been such a blessing to have this opportunity to pursue both of my passions: sports and mentoring children. I have worked with children in all different types of settings, ages, and backgrounds for about 10 years now. My love for sports came at a very early age which helped me become an elite high school athlete. I received scholarship offers for basketball, softball, and soccer from numerous colleges; only to end my senior year with a terrible knee injury. This injury was devastating at first, only to become a blessing in disguise leading me to find my love for mentoring children. Taking time away from actually playing sports, helped me see that I was not just an athlete but there was more to my abilities than just playing but to share my knowledge with our youth today.
Valdosta State University
Bachelor of Science in Health and Physical Education
Student Teacher of the Year 2011
Intramural Basketball, Softball, and Flag Football (4x Champs)
Central (Macon) High School (2001-2005)
3x Varsity Basketball, Softball and Soccer
3x Offensive Player of the Year (Basketball)
Defensive Player of the Year (Softball and Soccer)
All Middle Georgia Basketball Team
All Region Basketball Team
Quote
The willingness to experiment with change may be the most essential ingredient to success at anything.